Custom Oil Change Stickers can be custom printed or you can use a generic oil change sticker
Write on them with a pen or marker!
Easy to remove, but cling when you want them to!
Made of premium clear static cling vinyl for reliability!
Low in cost, with a high advertising ability for your company!
Choose from the Standard Oil Change Sticker or your own Custom Printed version!
You can write on your Custom Oil Change Stickers with either a pen or a marker
A common problem that some lube shops have faced is that their newly purchased oil change stickers are made from a low quality static cling vinyl that they are not able to write on. You have no worries here. You can use a regular ink pen or marker to write on your oil change stickers without the concern.
Easy to remove, but cling when you want them to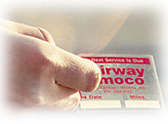 Static Cling Materials can vary in their quality and ability to stick to glass and other smooth surfaces. You need a supplier that uses a premium Static Cling Vinyl that is fresh and has not been laying around in a warehouse for months on end. Passion Labelstm manufactures millions of static cling labels each year, meaning we only have fresh static cling material on our floors are any given moment. By using new material and properly circulating our material inventory, the material holds a high static cling "dyne level" charge. Rest assured, you will be receiving high quality, "fully charged" static cling labels that will cling when you want them to.
Premium Removable Adhesive material makes all the difference
Remember, the words Premium and Quality do not mean overpriced. They mean that you are receiving a product that will work, that provides excellent value, and is a great representation of your own company. Passion Labelstm looks out for their customers and how their customers are represented to their own customers. We use only industry guaranteed, Premium No-residue Removable Adhesive material. The .002 (2 mil) thick material exceeds the industry standards for the Oil Change and Lube Shops in the United States, so you know that your company's advertising dollar will go the full stretch until your customer is ready for their next oil change.
The advertising value that you gain is worth every penny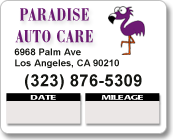 Oil change reminders are the most cost effective, innovative and effortless marketing tool of recent times, and they offer a valuable and practical service to your customers. Oil change stickers are low in price and serve as effective marketing tools. Many companies now prefer these service reminders as one of their primary methods of advertising. As soon as a person climbs into their automobile, they are presented with a subliminal sales message the entire time they are behind the wheel. Take advantage of this opportunity with your Oil Change Stickers and their powerful advertising ability.
Standard Oil Change Stickers are In-stock and ready to ship!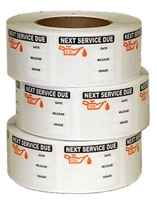 2" high x 2-1/2" wide
500 labels per roll
In-stock and ready to ship within 24 hours
Your Standard Oil Change Stickers have space for your company information, and phone number, along with an area to write the next service date, mileage and oil grade.
Order your rolls today! Visit our Oil-Change-Sticker.com site to find out even more about the Standard Oil Change Labels.
Custom Oil Change Stickers set you apart from your competition
2" high x 2-1/2" wide
500 labels per roll
We will add your logo for free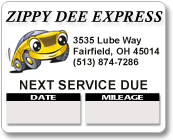 Add your logo to a custom static cling oil change sticker, for no extra charge. Visit our Oil Change Sticker site where you can set up your custom oil change sticker, view pricing, or find out more about your options. It's easy.
We have industry leading production times so that you are not waiting a month for your new oil change stickers. We typically ship within an incredible 7 - 10 days from your proof approval. Nice, right?! We thought you would appreciate that part. Visit our Oil-Change-Sticker.com site to find out even more about the Standard Oil Change Stickers.