Getting to know the ws6600 Digital Label Press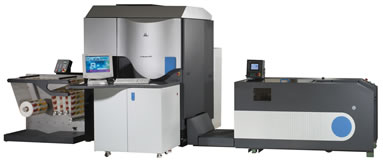 How the HP Indigo ws66000 Digital Label Press makes a difference for you
The ws6600 will give you the ultimate in modern digital label printing. By us staying up-to-date with the latest advances in digital printing, YOU receive the highest quality label available. Below you will find answers to commonly asked questions, along with some technical "geek speak" for those who are a little more curious.
Q and A with the Passion Labels Digital Team
Q: How many colors can you print?
A: Up to 7 colors, but..
Four must be CMYK.
One station is typically reserved for White.
Q: Can you print spot colors?
A: Yes. Typically most jobs are printed as CMYK though.
Q: Can you print White?
A: Yes - HP has an "Opaque White" ink.
Typically one "hit" is used on metallic materials.
Two "hits" are used on clear materials.
Each "hit" uses a station in the press.
Q: How good is the print quality of digital labels?
A: Amazing. When we say amazing, we actually mean "WOW! It is absolutely incredible!"
Most customers think it is better than traditional label printing.
Registration of colors is the best that you find in the industry.
Q: What kind of materials can you print on?
A: Pretty much the same materials that you can print on for traditional flexographic labels.
This includes, but not limited to, Gloss Paper, White and Clear BOPP film,
Metallized Foil Paper, Vinyl, Unsupported Film, Polyester (PET), Polyethylene (PE), etc.
Q: I've heard HP Digital Presses require some kind of special coating on the material?
Yes. HP Indigo presses require a special primer coating, which prepares the material
to be receptive to the ink.
Q: Can I get additional information about the ink used on the HP Indigo presses?
Of course! Download the HP Indigo Ink Information pdf to learn more.
Q: What resolution does the HP ws6600 print?
A: 812dpi / 175lpi.
Q: What are the smallest and largest label sizes you can print on your ws6600?
A: Smallest: .5" x .5" / Largest: 12" wide x 15" repeat length