ECLs give you more label room!
Add additional product information
List nutrition and supplement information
Excellent for multi-lingual requirements
Great for recipes and cooking instructions
Enhance product value with coupons and rebates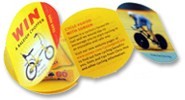 ECLs (Extended Content Labels) are the perfect solution for when you need more room on your product labels, by providing you with more "real estate" on your packaging. Increasing demands are placed on label space, with the need for legal and regulatory requirements, not to mention your desire to show your customer more. ECLs allow you to maintain shelf appeal, get brand messaging across and meet any regulatory requirement challenges you are faced with. Not to mention, it gives your customers an opportunity to interact with your product.
Confused by the terms for ECL's? Don't be. Booklet Labels, Expanded or Extended Content Labels, Extended Text Labels are pretty much the same thing.
Peelable / Resealable Hinged Extended Content Labels
A Peelable / Resealable Hinged ECLs is an economical label that is ideal for situations where you require up to an additional 2 panels of information. The hinged ECLs give you extra space on the backside and base layer, in addition to the label's face. This is a great option if you need room for additional nutrition and supplement information or if you have a multi-lingual label. These proprietary ECLs are made from a durable film construction and can be resealed after opening, which customers really appreciate
Multi-fold Booklet Extended Content Labels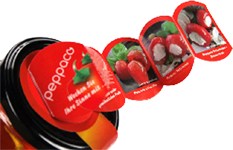 Passion Labels'tm Multi-fold Booklet ECL allows for even greater label space by using a folded panel booklet technology. Multi-fold booklets fold open into multiple panels of information, printed on both the front and back. The greatly increased label "real estate" has made multi-fold booklets the perfect solution to provide your customers with recipes and cooking instructions. Customers are also more likely to purchase your product versus your competition if you offer a coupon or mail-in rebate. Multi-fold booklets are also one of the most economical methods of cross-promotional literature presentation. Passion Labelstm Multi-fold booklets can do all of this on the same label!