IRC Coupon Labels / Dry Release Coupons / Instant Redeemable Coupons sell more of your products!
Attract attention to your existing product line with Instant Redeemable Coupons!
Entice customers to try out a new product that you have to offer!
Sell your overstocked inventory more quickly, using Dry Release Coupons!
Offer customers what they are looking for... cost saving options!
You see them on every week! TV' reality shows that are reprogramming society to look for deals on products. "Extreme Couponing" and "Coupon Moms" are a couple of examples. With our economy in a pinch and the cost of living increasing, society now targets consumer products that are offering rebates and cost savings. Those of you who are not taking advantage of what your customers are looking for, are missing out on valuable market share. Instant Redeemable Coupons will make a difference in your sales.
IRC Coupon Labels draw attention to your products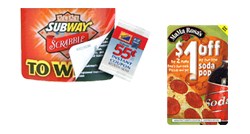 IRC Coupon labels are a cost effective means to attract attention to your existing products. Today's consumers are drawn towards savings, more than ever. When two products are side by side, the product with the offer will move off of the store shelves faster than the product without. You need to have the product with the offer.
IRC Coupon Labels sell your new products
Instant Redeemable Coupons are an excellent way to entice customers to try your new product. The coupon will give them the extra little "bump" that they need to seal the deal and pick your new product from the shelf.
IRC Coupon Labels move your overstocked inventory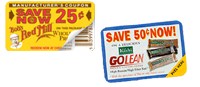 Quickly sell your overstocked inventory or move your soon to be discontinued products with the use of IRCs / Instant Redeemable Coupons from Passion Labelstm. It's a win / win for you and your customers.
IRC Coupon Labels from Passion Labels and Packaging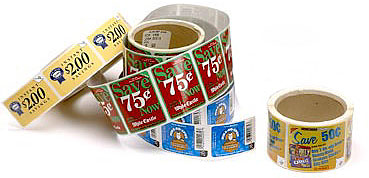 Your IRC's will print on a state of the art 12-station flexographic press that was built with the specific design of coupon manufacturing. As with all of our printing, your coupons will be printed in high resolution full color graphics.
Paper / Paper - Dry Release Coupons
Take advantage of three (3) printing surfaces. The front panel, the back panel and the base
Peels of easily, leaving no messy residue on the product or the customer
Available in both a permanent adhesive or a cold temperature adhesive for cold conditions
Dry Peel insures one-time usage for maximum security
Print up to 7 total colors + a varnish overcoat, for durability
Paper / Clear - Dry Release Coupons
Take advantage of two (2) printing surfaces. The front panel and the back panel
The clear base provides the ability for your customers to see what is on the package after the IRC has been removed
Peels of easily, leaving no messy residue on the product or the customer
Available in both a permanent adhesive or a cold temperature adhesive for cold conditions
Dry Peel insures one-time usage for maximum security
Print up to 7 total colors + a varnish overcoat, for durability
Film / Film - Dry Release RECYCABLE Styrene Coupon
Made from recyclable styrene. Ideal for manufacturing waste recyclability or consumer recyclability
Available with either a white or clear base label
Peels of easily, leaving no messy residue on the product or the customer
Available in both a permanent adhesive or a cold temperature adhesive for cold conditions
Dry Peel insures one-time usage for maximum security
Print up to 7 total colors + a varnish overcoat, for durability