Custom Stickers are essential to your business
Give your own brand and identity to all of your products!
Custom stickers can be made to nearly any shape or size that you require!
Our vast range of material options can meet most any challenge or need you have!
From removable adhesives to cold temperature adhesives, we have you covered!
From short runs to long runs, there is a perfect, low cost solution for your needs!
Your brand and identity are projected through your custom stickers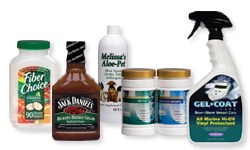 Your brand and identity are essential to your company. Custom stickers are designed and tailored particularly for your product and your desired company image. How your customers see you plays an ultimate role in sales, so a high quality sticker will make all the difference.
You can use custom stickers to promote, advertise and even inform your customers on the new offers, new product launches, and more. You will be able to personalize your products and boost the appeal of your business.
With custom stickers, your product is sure to stand out and be superior to other brands!
Custom stickers can be made to nearly any shape or size!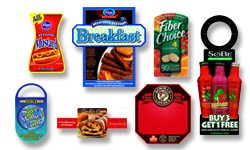 Though most stickers are rectangles, squares, circles or ovals, designed to fit regular bottles or packaging, your size and shape options are actually near limitless. With todays technology and lower costs to produce tooling, a custom shape for your product bottles or packaging is well within reach. This also includes those of you looking for short run, digital printed stickers.
Some packaging or special shaped bottles require a custom sticker that is tapered specifically for that packaging. Just send in your bottle or packaging and our team will fit it with the ideal shape and size. It's that easy!
There is a material to fit your custom sticker needs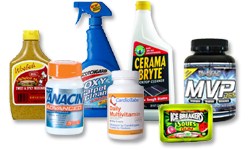 There is a great deal of flexibility when using custom stickers. Materials range from economical gloss papers, indoor or outdoor white and clear film materials, squeezable film materials, high temperature polyesters, silver foil paper and films, holographic materials, and the list goes on.
When it comes to protecting your custom sticker and topping off it's appearance, you can choose from matte or glossy varnish overcoats and overlaminates. If you are not sure of what you want, don't worry, that's what we're here to help you with. Just ask!
Remember, the best custom stickers are made from materials that are high in quality.
Custom stickers are available in a near endless variety of adhesives
A proper adhesive is critical to the performance of your custom sticker. There are countless variables in packaging that will affect how your custom sticker sticks when it should stick, or removes when it should remove. From varying amounts of silicone traces in the bottles you buy, to whether you are filling your packaging at hot or cool temperatures, it is absolutely critical that you discuss your process with your custom sticker printer. We always suggest testing material samples if there is any concern about a stickers adhesive performance.
Just to name some of the adhesives available for custom stickers; Removable adhesives, Repositionable adhesives, Permanent adhesives, Cold Temperature and Freezer adhesives, Static Cling, and even adhesive that will remove at just over 100°F (wine stickers).
Tip: Cold temperature adhesives are commonly used for custom stickers when there is a chance the sticker may need to be repositioned on the packaging. Not many printers tell their customers this bit of information. It's especially useful if you are hand applying your stickers. The cold temperature adhesive has a slower adhesive flow rate, thus allowing for a quick repositioning for few minutes before finally locking onto the packaging's surface.
Custom stickers are available in short, medium, or long run quantities
In the past, if you were in need of a custom sticker, you were going to spend some bucks on artwork design, new tooling, printing plates, etc. You had to buy 50,000 to 100,000 stickers just to get your price to a reasonable level. Passion Labels and Packaging has changed that for you...
Technology has been the greatest asset in the change to making custom stickers economical for everyone. If you need just a few hundred custom stickers and multiple items of each, digital printing has made it possible!
Let's get you started by either asking for sticker pricing or a sample kit. It doesn't get much easier than working with your team at Passion Labels and Packaging!