Direct Thermal Labels provide economical,
on-demand printing.
Print labels when you need them, with on-demand printing!
Ideal for the fresh meat, shipped parcels, warehouse, and the medical industry!
Save time by eliminating thermal ribbon change-over!
Direct Thermal printing requires a heat sensitive paper or film material. The thermal printhead elements come in direct contact with the heat sensitive label material, where the heat from the elements cause a color change in the material to create the printed image.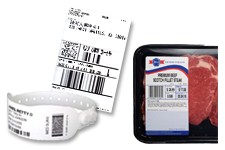 Most people are familiar with the old fax papers. Technology has greatly advanced since those days, giving much sharper images and text and of course longer life to the direct thermal materials. Direct Thermal labels are used widely in the fresh meats, shipped parcels, warehouse environments and in the medical industry. Read on, to find out if Direct Thermal label printing can even fit your needs.
When Are Direct Thermal labels a good fit?
The label life is less than 1 year.
The label will not be exposed to continuous sunlight.
The label will not be exposed for high temperatures.
The label will not be exposed to harsh environmental conditions.
Direct Thermal label material is activated by heat. Though today's direct thermal labels have a longer life and are far more durable than in the past, you still must take care not to expose the labels to conditions which will "further expose" them to additional activation.
Direct Thermal labels have a wide range of use
Food Industry: Direct Thermal printing is popular in the food industry, since most items are stored away from heat and sunlight, and the label shelf life is less than 1 year. Also, the lack of a thermal ribbon being used allows for increased up-time and less hassle for the individuals printing the labels.
Shipping Parcels: You see Direct Thermal labels used on packages that you receive from UPS, FedEx and even on packages shipped through the US mail.
Medical Industry / Healthcare: Regulatory requirements for privacy of information are another area impacting the use of direct thermal media. In healthcare, patient privacy can be at risk if personal information is available on used thermal transfer ribbon.
Office: Many people use direct thermal labels around their office. They are great for use in filing cabinets, file and folder identification. Direct Thermal tapes are even used for the DYMO label printers that many people use.
Warehouse: Direct Thermal labels are an excellent choice for Inventory Tracking Labels. Most inventory is rotated well within a years time, so direct thermal is your perfect inventory label solution. Having a simple Zebra desktop printer plugged into your computer, you can quickly print bar coded labels to use on your products.
Unprinted or Custom Printed, you have options
If you are looking for unprinted, Direct Thermal labels, we have what you are looking for. If we do not carry a stock size, we can easily die cut labels to the size you are looking for.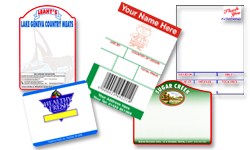 For those of you who are in need of pre-printed Direct Thermal labels, you just found the perfect company to print these for you. You can have your company logo or product line logo pre-printed, leaving yourself room to print cooking instructions, directions, ingredients, etc.
Contact us today to find out more!
Environmental Considerations
Eliminating the use of thermal transfer ribbon can therefore positively impact a company's goal for a reduced carbon footprint. When using ribbon, the spent ribbon and cores must be disposed of, adding to a company's waste stream. Direct Thermal technology eliminates the use of thermal ribbons and therefore eliminates the waste created through its use.
Limitations of Direct Thermal labels
As with anything, there is a proper fit for when you should choose Direct Thermal label printing. We wanted to make sure you are aware of the few limitations of Direct Thermal labeling.
The print color is limited to black, and the printing is potentially not quite as crisp as that of Thermal Ribbon printing.
Over time the labels will darken, particularly when subjected to heat and sunlight.
See, that's not so bad, is it? If you would like to learn more about Direct Thermal labels and how they compare to Thermal Transfer labels, visit Thermal Transfer vs Direct Thermal labeling, to learn more about which is perfect for you.