Thermal Transfer Labels provide long life, durability, and are printed on-demand.
Print labels when you need them, with on-demand printing!
Use Thermal Transfer when you need your label life to be greater than 1 year!
Perfect choice for a more durable application requirement!
Print on a wide variety of label materials!
Thermal Transfer printing involves the thermal printhead elements (dots) heating the backside of a Thermal Transfer ribbon to melt and transfer the compounds on the front side of the ribbon to the label material, thus creating the printed image.
When Are Thermal Transfer labels a good fit?
The label life will be greater than 1 year.
The label could be exposed to continuous sunlight.
The label could be exposed to high temperatures.
The label could be subjected to chemicals or abrasives.
You will be printing high density barcodes.
You may want to print on a variety of different label types, such as papers, films and foils.
You may want to print in colors other than black.
Since Thermal Transfer labels are printed using a thermal ribbon, they are far more durable and have a much longer life than their Direct Thermal counterparts.
Thermal Transfer labels have a wide range of use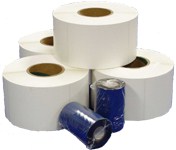 Many people choose to use strictly Thermal Transfer labels for their thermal printing requirements. This eliminates the need to keep both Thermal Transfer and Direct Thermal labels on hand.
Thermal Transfer labels provide a great deal more durability than their counterparts because they are printed with a wax or resin Thermal Transfer ribbon. For example, printing on a film material with the appropriate resin ribbon can pride you with excellent chemical resistance. The most common and economical use of Thermal Transfer labels is to use blank white labels in stock sizes. We are able to create any label size and shape that you need, however the most affordable option is to use a stock label.
Pre-printed custom Thermal Transfer labels are also available. You can have these labels pre-printed with your company logo, for example, then leave an area for you to print your own variable information. These are available in either short or long runs and can come as Thermal Transfer printable material, or with a Thermal Transfer printable Gloss Varnish overcoat or Thermal Transfer printable Gloss Overlam.
Shipping: Because of the durability and heat resistance properties of Thermal Transfer label printing, many people choose this method for their shipping needs. If you are shipping cross country during the summer months, the heat resistance provided by Thermal Transfer printing ensures your label will be legible by the time it is delivered. This is especially important when bar codes are used.
High Density Bar Codes: Thermal Transfer printing is very crisp and durable, so this method is excellent for high density bar-codes and labels that require longevity.
Warehouse: Warehouses that are not temperature controlled can get hot in the summer. Thermal Transfer labels provide the heat resistance and durability that you need to withstand the environment. Using a Thermal Transfer label material with wax ribbon will typically do the trick. If you need even more durability, for any reason, film materials and resin enhanced ribbons are an option.
Abrasion / Chemical Resistance: If you are in need of abrasion and / or chemical resistance, Thermal Transfer labels are a must. Even a basic wax ribbon on a standard Thermal Transfer label material will provide far more durability than its Direct Thermal counterpart. For example, full resin ribbons used on film materials can provide amazing scratch and smudge resistance, stand up to high heat, steam, and resist chemicals that it may come in contact with.
Packaging / Bottling: Thermal Transfer label printing is an excellent method to stamp a date and lot codes on labels that require them, during the packaging process. An example is vitamin, nutraceutical, and pharmaceutical packaging. This is done using print & apply labeling equipment.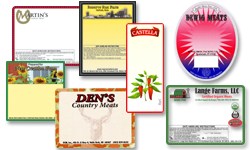 Pre-printed, Custom Food Labels: Pre-printed Thermal Transfer labels are commonly used as retail food labels, containing ingredients and nutrition information. These beautifully, pre-printed custom labels have your logo already printed, and can be coated with either a Thermal Printable Clear Overlam or a Thermal Printable Gloss Varnish overcoat, providing protection for your label, a premium retail appearance and the benefit of on-demand, variable printing at your fingertips.
Print on a wide variety of materials with Thermal Transfer printing
An excellent benefit of Thermal Transfer label printing is that you are able to print on a wide range of materials, such as papers, films, and even foils. This opens the door to material / adhesive combos that suit your specific need and application.
Here's how it works. Thermal Transfer printing uses a thermal ribbon to print on the surface of a material, as long as the surface of that material is Thermal Transfer ribbon receptive. Passion Labelstm can make nearly any material thermal printable for you. You can choose from thermal printable papers or films, or we can use a special Thermal Transfer varnish overcoat or Thermal Transfer clear overlam on top of any material, giving you near limitless thermal printing options.
Print your Thermal Transfer labels in colors other than black
If you ever want to thermal print in colors other than black, Thermal Transfer printing is the way to go. The most common colors are Red, Green, and Blue. White ribbons are also available if you need them.
For printhead longevity, Thermal Transfer printing is your best option
When Thermal Transfer printing, you are using a thermal ribbon, which acts as a buffer between the printhead and label material. Thermal ribbons are designed with an acrylic back-coating, that serves to increase printhead life, by reducing static and friction. To learn more about the differences between Thermal Printing methods, visit Thermal Transfer printing vs. Direct Thermal printing.
Contact us to find out how Thermal Transfer printing will benefit you
We would be delighted to talk to you more about Thermal Transfer label printing and the befits it can offer you. Call or email us right now to find out more.