Making the best choice for your thermal label needs
Both methods of on-demand printing offer incredible benefits for those looking to print their own thermal labels. It's important that you have a basic understanding of Thermal Transfer and Direct Thermal, so that you can make the proper choice for your needs.
The difference between Thermal Transfer and Direct Thermal
In simplest terms, Thermal Transfer printing utilizes a thermal ribbon and Direct Thermal printing does not.
Thermal Transfer: Thermal transfer involves the thermal printhead elements (dots) heating the backside of a thermal transfer ribbon to melt and transfer the compounds on the front side of the ribbon to the label material, thus creating the printed image.
Direct Thermal: Direct Thermal printing requires a heat sensitive paper or film material. The thermal printhead elements come in direct contact with the heat sensitive label material, where the heat from the elements cause a color change in the material to create the printed image.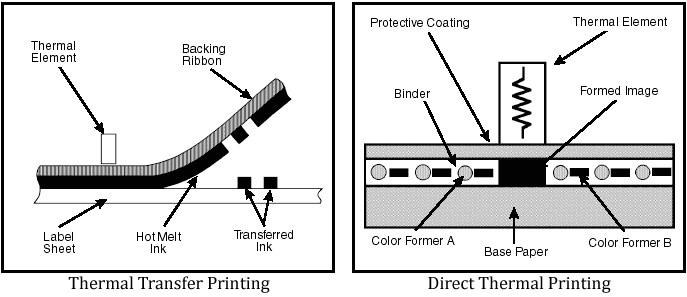 Comparing Thermal Transfer to Direct Thermal
Thermal Transfer and Direct Thermal each have their areas of best use. Read on to see which is the best fit for you.
Thermal Transfer vs. Direct Thermal: Choosing the best option for your label needs
Thermal Transfer

The label life will be greater than 1 year.
The label could be exposed to continuous sunlight.
The label could be exposed to high temperatures.
The label could be subjected to chemicals or abrasives.
You will be printing high density barcodes.
You may want to print on a variety of different label types, such as papers, films and foils.
You may want to print in colors other than black.

Direct Thermal

The label life is less than 1 year.
The label will not be exposed to continuous sunlight.
The label will not be exposed for high temperatures.
The label will not be exposed to harsh environmental conditions.
Thermal Transfer vs. Direct Thermal: Advantages and Disadvantages of each
Advantages
Disadvantages
Thermal Transfer

Long life of printed text and images.
Printed text and images do not fade in direct sunlight and are far more heat tolerant.
Availability of colored ribbons to choose from.
You typically have a longer printhead life.
Wide selection of labels to choose from.
You are able to print on Thermal Printable overlams and varnishes.
Good chemical resistance with some materials.

Operators must perform ribbon change-overs.
More mechanical parts in a combo printer means potential for more downtime and mechanical failures.
Opportunity for print quality problems due to mismatched labels and ribbon.
Opportunity for print quality problems due to incorrect ribbon adjustments.

Direct Thermal

Simplified operator intervention; no ribbon to load or ribbon adjustments to make.
No potential ribbon wrinkle problems.
No mechanical failures associated with ribbon drive mechanisms. (When using a Direct Thermal only printer)
Fewer inventory items due to lack of ribbon and fewer spare parts.
No ribbon disposal.

Typically, slower print speeds.
Reduced thermal printhead life.
Will fade or "yellow" over extended periods of time.
Label will darken when exposed to extreme heat and direct sunlight.
Specialty material (i.e. direct thermal films) can be costly.
Limited selection of label material.
Limited chemical resistance.
We would like to thank SATO America for the use of their Thermal Transfer vs. Direct Thermal Advantages and Disadvantages table.
Thermal Printhead Life and Cost
Thermal printers have what is called a Printhead or Thermal Element in them, which heats up in order to generate a the printed image. Depending on your type of thermal printer, printheads can range from just over a $100 to upwards of $1,000 dollars to replace. It's important to understand the effect that running Direct Thermal labels can have on your printhead vs. running Thermal Transfer labels.
Direct Thermal: When you are Direct Thermal printing, the material is in direct contact with the printhead, as it is pulled through the thermal printer. Even though most Direct Thermal materials have a coating on them to ease the wear on the printhead, there is still a great deal of abrasive action taking place. Also in Direct Thermal applications, dust and debris that may become present on labels are in direct contact with the printhead. As these foreign materials are pulled across the printhead, they may burn onto the elements or physically damage the elements resulting in poor print quality and/or premature printhead failure.
Thermal Transfer: When Thermal Transfer printing, you are using a thermal ribbon, which acts as a buffer between the printhead and label material. Thermal ribbons are designed with an acrylic back-coating, that serves to increase printhead life, by reducing static and friction.
Due to the situations described above, expected printhead life in direct thermal printing applications is significantly reduced when compared to thermal transfer printing applications. Generally speaking, a company should anticipate direct thermal printheads providing an expected lifetime of 25% - 50% of a thermal transfer printhead.
Thermal Printer Configuration and Cost
Thermal Transfer printers typically have the capability of printing either Thermal Transfer or Direct Thermal labels. If you only going to print Direct Thermal, there are printers available that only have Direct Thermal capability. These printers are generally less costly to purchase because they do not contain any of the hardware necessary for driving and controlling ribbon.
Eliminating the ribbon and ribbon hardware components also results in a less complex printer with fewer parts to wear and/or break, resulting in lower service costs and less downtime over the life of the printer. Additionally, operators don't have to be concerned with ribbon settings or adjustments, leading to improved uptime and increased efficiency.
Hopefully this has provided you with all of the information necessary in order to make the best decision for your thermal printing needs. If you have any other questions, please contact us by sending a message or better yet, just give us a call at (888) 425-3955. We would be delighted to answer any questions you may have.