High quality, consistent, easy, and economical Dietary Supplement Labels
Your supplement labels will look amazing, with Passion's High Definition Printing
Specialty overlams and varnishes are available if you are stamping a lot code or date
With several material options to choose from, give your supplements a distinct look
High quality supplement labels printed digitally or flexographically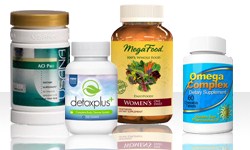 Passion Labels' high definition printing will ensure that your dietary supplement labels print at the highest quality possible. Using the latest technology in the industry, your colors will be rich and vibrant, extremely consistent from order to order and stand out from your competition's packaging.
Four Color Process, Opaque Whites on clear, Decorative Foil Stamping, Embossing... Your supplement labels can be customized to get the 'one-of-a-kind" appeal that will bring distinction to your brand and product image.
Low quantities or multiple SKU's - Digital Printing is perfect for you
If you are looking to start out with a low quantity run, have a bunch of different SKU's or maybe just need to prepare a test market run, then digital printing is perfect for your supplement label needs.
The HP Indigo digital presses have set the standard for printing excellence. This gives you the benefit of quality, consistency and "no plates" printing, keeping your supplement label costs at an absolute minimum. With digital supplement label printing, you can even have your labels sequential numbered, or lot codes and dates printed, without the hassle of printing plates being required for each new run.
Mid to high quantity runs - Flexographic Printing is your ideal solution
When you reach the exciting point where your business has grown and you are moving some product, flexographically printing your dietary supplement labels will save you money. The high production speeds offset your prep costs and offer you a tremendous cost savings on your labels.
The latest advances in technology allows Passion Labelstm to print your custom dietary supplement labels at the highest quality possible for traditional printing. Digital plate making and proofing ensures your images are vibrant, precise and consistent. And, up to 12 colors can be printed, if necessary.
Specialty overlams and varnishes, tailored for your supplement labels
Depending on if you are going to be printing / stamping your labels with a lot code and exp. date, you may need a specialty varnish or overlam. With short run digital printing, we can easily and cost effectively do this for you, but in most cases the stamping will be done at the time of bottling. Below we have listed some useful information that will help you understand the best overcoat method for your supplement labels.
Lot / Date Coding Method
Printing Type Description
Required Label Overcoat
Thermal Transfer
Printing

Uses either a mid-range or full resin Thermal Transfer Ribbon.
The information is digitally imaged.
Using heat, the ribbon ink is transferred to the label's surface.

Mid-range Ribbon

Thermal Printable Varnish
No-varnish area (Flexo only) - prints directly on label material

Resin Ribbon

Thermal Printable Polyester Overlam (costly)
Thermal Printable Polypropylene Overlam (not as costly, but does not work with all ribbon types)

Hot Stamp Printing

Uses a Hot Stamp Ribbon.
With pressure, heat and dwell time, the ribbon ink is transferred to the label's surface, using a stamping tool.
The most durable of lot / date stamping methods.

No-varnish area (Flexo only) - prints directly on label material
Standard Polypropylene Overlam
NOTE: It is critical that we know how your supplement labels will be lot / date coded. The good news is, we work with co-packers / bottlers across the country, so we may already know. Otherwise, all you need to do is give us their contact information and we can find out for you.
Stand apart with a distinct look, using one of several material options
The material you choose for your labels is a huge part of your branding strategy for your Dietary Supplement label program. Below we have listed some of the more common materials and their benefits / common uses.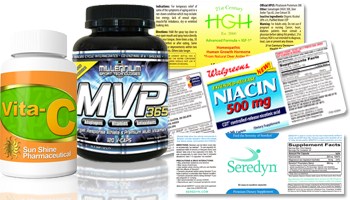 Premium Gloss Paper: Lowest in cost. Is typically protected with either a Varnish Overcoat or a Film Lamination.
High Quality White or Clear Film: Higher in cost than Gloss paper. The film adds additional durability and moisture or water resistance.

The White Polypropylene (PP) Film is very popular in the supplement industry right now. PP has a pearlescent shimmer to it that adds a touch of class and elegance that people often associate with a high quality supplement product.
The Clear Polypropylene (PP) Film is used to achieve the "no-label look".

Eye catching Foils or Holographic: Looking to add some shine to your supplements? From straight Silver Foil to adding some color to the foil to change the tinting, you have near endless design options. Take it one step further and go with a Rainbow Holographic material for the ultimate in materials for your custom dietary supplement labels.
Gloss or Matte Varnishes or Overlams: Depending on the look you are going for, and of course if your supplement labels are to be lot / date stamped, you have the options of gloss or matte.
Shrink Sleeve Labels provide 360°, form fitted graphics: Shrink labels are gaining immense popularity in the recent years, especially in the supplement industry. They provide rich graphic print, full bottle coverage, and can also act as a tamper evident seal, reducing your overall packaging costs.
Supplement Label regulations and FDA requirements
The U.S. Food and Drug Administration (FDA) outlines a number of labeling requirements for the marketing of dietary supplements in the Dietary Supplement Health and Education Act of 1994 (DSHEA). The DSHEA offers an extensive list of specific regulations and exemptions in addition to setting a standard for defining products as dietary supplements.
Please consult the following sources for further information on custom dietary supplement labeling, including marketing a new dietary ingredient and the acceptable format of a Supplement Facts panel: